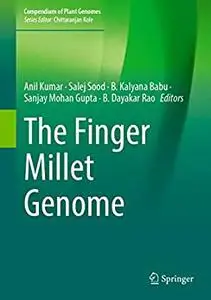 The Finger Millet Genome
English | 2022 | ISBN: 3031008677 | 298 Pages | PDF True | 8 MB
This book is the first comprehensive compilation of deliberations on domestication, genetic and genomic resources, breeding, genetic diversity, molecular maps & mapping of important biotic stress as well as nutritional quality traits, genome sequencing, comparative genomics, functional genomics and genetic transformation. The economic, nutritional and health benefits especially antioxidants mediated antiaging effects of finger millet are also discussed. It also presents the input use efficiency, wide adaptation, post-harvest processing and value addition of the crop. Altogether, the book contains about 300 pages over 16 chapters authored by globally reputed experts on the relevant field in this crop. This book is useful to the students, teachers and scientists in the academia and relevant private companies interested in genetics, pathology, molecular genetics and breeding, genetic engineering, structural and functional genomics and nutritional quality aspects of the crop. This book is also useful to seed and pharmaceutical industries.