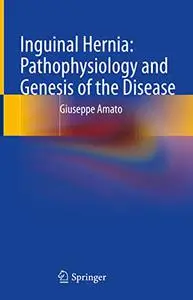 Inguinal Hernia: Pathophysiology and Genesis of the Disease
English | 2022 | ISBN: 3030952231 | 97 Pages | PDF True | 9 MB
This book aims at filling a gap in relation to the pathophysiology of the inguinal region and the genesis of groin protrusions. While inguinal hernia is a widespread disease and hernia repair accounts for the most frequently performed surgical procedure, these two aspects have been unsatisfactorily investigated, so that to date there is no shared hypothesis on how visceral protrusion through inguinal barrier occur. Exact knowledge on the pathogenesis is fundamental for adequately managing a disease, otherwise all curative approaches would not be evidence-based, but merely empirically identified and with uncertain outcomes carried out. Moreover, in absence of pathogenetic certainty, formulating guidelines simply results in an unjustified methodology harbinger of polemics and controversies. Previous studies concerning the pathogenesis of inguinal protrusions were mainly focused on the detection of biochemical changes, mostly related to collagen chains, metalloproteinase and similar elements. Nevertheless, despite decades of researches, a sure relationship between these ultrastructural modifications and visceral protrusion has not been proven. On the contrary, over the years very few investigations dealt with evidencing eventual modifications in the tissue structures of the herniated groin. An extensive research finalized to ascertain in patients and in cadavers structural changes of the tissue elements composing the groin was therefore carried out by the author and his researchers team. The findings of these studies resulted to be very useful for definitely evidencing the etiology of inguinal hernia disease. Overall, the proposed book scrutinizes and widens all emerging aspects related to pathogenesis, histology, physiology, surgical and functional anatomy of the inguinal area affected by hernia protrusion. It intends to be a reference guide to surgeons willing to better understand the structural modifications occurring in patients affected by this disease with the aim of improving treatment results.